Dr. Ian Dunbar, the Dog Trainers' Trainer
Dr. Ian Dunbar, the Dog Trainers' Trainer, Announces a New Seminar and Workshop Tour for the East Coast in June 2013
Dr. Ian Dunbar will give a series of dog training seminars and workshops on the East Coast in June 2013. Dr. Dunbar is peerless in the field of pet dog training and behavior and has been hugely influential in the rise of positive dog training methods that are enjoyable and effective for the entire family. As a seasoned presenter who has performed at hundreds of events, his seminars and workshops are uniquely educational and enjoyable, and they often sell out.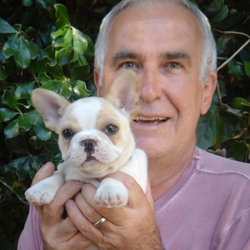 Providence, RI, April 30, 2013 –(PR.com)– World-renowned veterinarian, animal behaviorist & dog trainer, Dr. Ian Dunbar, will give a series of dog training seminars and workshops on the East Coast in June 2013.
Often referred to as the "Dog Trainers' Trainer," Dr. Dunbar founded the Association of Pet Dog Trainers, he has produced numerous books and videos and given hundreds of seminars and workshops, helping to educate dog trainers, veterinarians and pet owners around the world.
Dr. Dunbar received his veterinary degree from the Royal Veterinary College in London, and his doctorate degree in animal behavior from the University of California in Berkeley. He revolutionized the world of pet dog training when he created the world's first off-leash puppy training classes and released the associated "SIRIUS® Puppy Training" video. He also created and hosted the popular British television series, "Dogs with Dunbar."
With a focus on early puppyhood training and socialization, using methods that are easy, effective and enjoyable for humans and dogs alike, his fun & games, family-friendly, results-oriented methods are grounded in scientific research and decades of dog training experience.
Dr. Dunbar's seminars and workshops sell-out frequently; he is an experienced and very entertaining speaker and his events are open to anyone interested in dog training and behavior, from professional trainers and veterinarians to curious pet owners.
His East Coast Tour will consist of three Weekend Workshops and five Single-Day Seminars, with Evening Q&A Sessions at each of the locations.
The Single Day Seminars will be packed with profound insights into the nature of dog behavior and training that will provide attendees with the tools they need to train dogs to extremely high levels of reliability. At the workshops, there will be a limited number of spots available for attendees to bring their dogs to train under the expert supervision of Dr. Dunbar. Through the use of games and tricks, Dr. Dunbar makes training and reliability testing fun for everyone: the dogs, the trainers and the spectators.
Providence, RI – June 8-9 – Dog Training Workshop: Motivation for Reliability, Speed & Precision
Southbridge, MA – June 11 – Crucial, Cutting-Edge & Common-Sense Concepts in Dog Training
Hamden, CT – June 12 – The Dominance Myth: Fearfulness, Reactivity & Aggression in Dogs
Lagrangeville, NY – June 14 – Crucial, Cutting-Edge & Common-Sense Concepts in Dog Training
Randolph, NJ – June 15-16 – Dog Training Workshop: Motivation for Reliability, Speed & Precision
Exton, PA – June 18 – Crucial, Cutting-Edge & Common-Sense Concepts in Dog Training
Salisbury, MD – June 19 – The Dominance Myth: Fearfulness, Reactivity & Aggression in Dogs
Columbia, MD – June 22-23 – Dog Training Workshop: Motivation for Reliability, Speed & Precision
James & Kenneth Publishers
Jamie Dunbar
800 784 5531
Contact
www.jamesandkenneth.com